Hi everyone,
I know things have been really hectic with the overall look and feel of the wiki as of late. A lot of the changes have been discussed within the wiki's Discord server (accessible from the front page if you are interested in joining), but I haven't thought to make an announcement on the wiki itself. I've noticed that we've been getting some visitors mainly on the comments and very rarely on the discussions board, so I've decided to take the time to note a relatively hefty amount of changes.
Keep in mind that a lot of the changes are correlated with each other and each decision affected another page or template that needed changing badly. So if there's a lot of "back and forth", that's why and I apologize in advance... TTwTT
A major update was the split between character pages and product/software pages. A good handful of other voice synthesizer wikis do this for their characters and given that the original Synthesizer V was headed in the direction of updating to Synthesizer V Studio (with Standard and AI voice databases), it was definitely a priority to have these split. The Quadimension R1s definitely had a lot of content in their history sections and badly needed it, especially when comparing them to the VOLOR R1s before them, who had much less info in comparison (I'll come back to the VOLOR R1s in a moment because they also received quite the update). With ALL of them moving to SVS, it was clear that everything couldn't be in one place anymore. And what definitely pushed us to go forward with this was partially the introduction of SOLARIA, who also had a hefty amount of information, as well as the growing demo amount of Rikka (which also prompted us with another decision). Overall, all character-related information is hosted on the "Character page" or their "main page" (example: "Eleanor Forte", "Tsurumaki Maki", "GENBU") while the software-related and development information is hosted on their "product/software pages" ("Eleanor Forte (Synthesizer V) / Eleanor Forte (Synthesizer V Studio)"). In addition, for characters that were on other synths, their wiki links were incorporated into the navigation bar at the top rather than "For more info of so-and-so as a Voiceroid, go to Voiceroid wiki" at the top, especially when they're on more than 2 synths. Below is an example of what the split pages look like in the navbar (located on the tops of each page).

2. Major proofreading and researching of current characters. This basically happened after the character/product split, especially for the VOLOR R1s as these pages were noticeably lacking in information. This wasn't anyone's fault here at the wiki. The original R1s definitely didn't have much to go by and part of what makes running a wiki a challenge is being able to work with so little. Interestingly, the VOLOR R1s did actually have the related development notes scattered on the "Concepts" section, which I supposed was separated because they shared the page, hence why a split was important to have. After some researching, we're happy to say that their pages are definitely better fleshed out and bulked up. Some of them might still be small, but it's definitely a lot better than before! And what helped was the inclusion of a "Retirement" section since the original SynthV was discontinuing in favor of SVS. Below is an example of Eleanor's revamped history section from her Synthesizer V product page.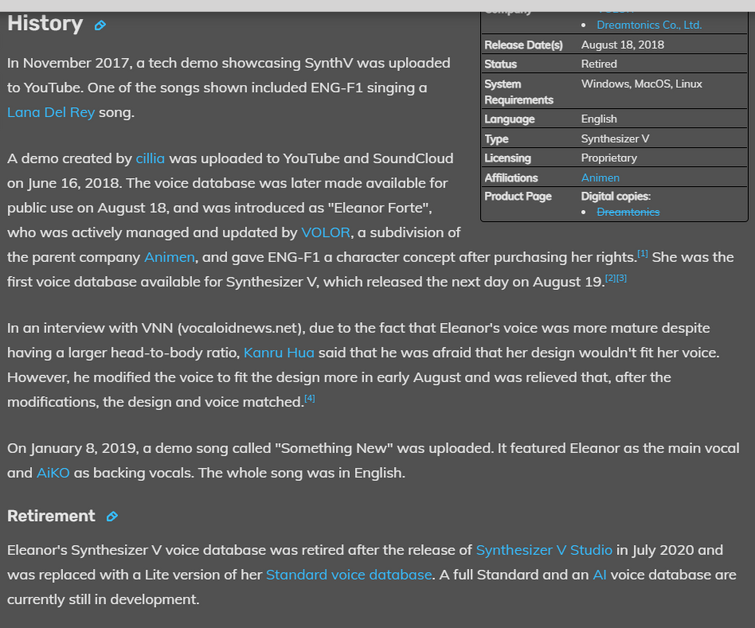 3. As seen in the example of the first point, we've also managed to overhaul the "Navbar" and the Navigation template that's found on the bottom of each page. The Navbar didn't go through too much change aside from adding the splits and other wikis, renaming certain pages, and removing song pages (the later two will be covered in later points as well).
The general navigation template however went through a MAJOR overhaul. Initially, the characters were split by companies and languages. While I was looking them over, I've concluded that this look was going to appear very very bulky and editing each group was going to prove inconvenient as the companies were listed in ABC order (the group parameters are noted as things like "group1", "group2", etc, so in order to insert a new company in between, you had to renumber these parameters).
Instead, we've opted for a new order: Voice databases (split into R1, R2 w/AI, upcoming, and unreleased), companies, Projects/series, voice providers, and illustrators. This is listed in release date order, with the product pages listed in parenthesis after the character page. For existing characters with upcoming updates, these were indicated with an underline, where if you hover over these, it will tell you what the update is (example: "SVS" for Eleanor would say "Upcoming Standard & AI voice databases"). Upcoming, companies, projects are all listed in ABC order, while voice providers and illustrators are based on the character release order. Things will move around when products are released and will be sorted in the order we have implemented. There is no need to add new groups of parameters until a new engine releases~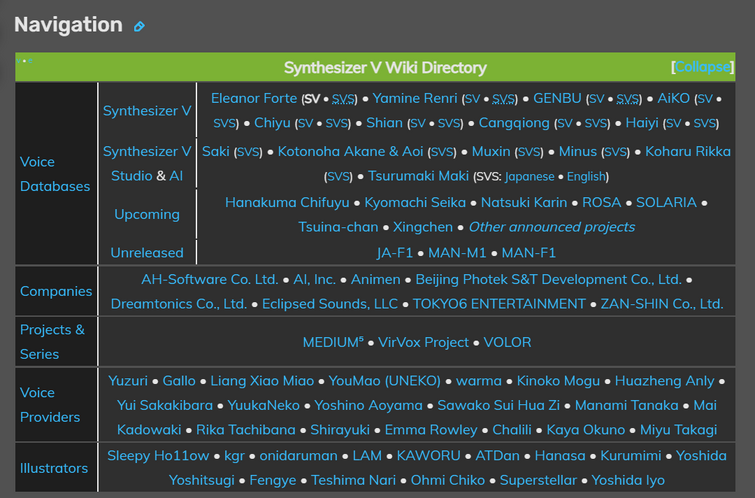 4. We've added a "Status" page! This is something that's available on some other synth pages and serves as a reference to the order of releases in addition to hosting information about upcoming vocals that were not yet named (like Dreamtonics' male English AI vocal), prototypes, and possible projects that are not yet confirmed to be in production (ZAN-SHIN's REV and other concepts are examples of this). You can check it out here.
5. The categories have been overhauled to fit accordingly with character and product pages. They can be really confusing to understand sometimes, so I'll do my best to explain it.
Characters are all to do with "who they are" and what applies to them. They're always tagged with the "Characters" template, as well as the company, projects, which engines they've released on (including lite and beta vocals), whether they're considered a masculine or feminine vocal type, and what languages they're available in.
For product pages, it's a little different. It's all about what's available for this particular product and their classifications. They're always tagged as "Voice databases" (not "Voicebanks". This was recently changed as SV refers to these officially as "Voice databases"), the company, projects, which engine, which type of database (Standard/AI for SVS), language, whether they're on Web Synthesizer V, if they have Lite voice databases, if they have starter packs, and if they're retired/discontinued.
For upcoming vocals, because they're "all in one", they include both Character and Product page categories. They also have the "Upcoming" template, which automatically applies the "Upcoming" category to the page. The reason why they have both is because of past experiences with cancelled projects within other synths like Vocaloid Wiki and Alter/Ego wiki. As much as it's ideal for projects to reach release, sometimes things happen and they weren't able to. Knock on wood for every single one of course, but this was done in preparation for such cases. Prematurely splitting the page, only for the vocal to never release and leading us to return all information into one is a hassle. This happened to pages like Zhanyin Lorra. This also includes "private" or exclusive releases, like Yuecheng and Zhang Chuchu, who both had page splits until they returned to one again. Therefore, it's decided to keep all upcoming vocals on one single merged character/product page until they hopefully release. SOLARIA and Natsuki Karin are currently the best examples of this merge (at the time of me writing this announcement).
Please note that there are inconsistencies with capitalizing in the categories and at this point, I'm a little reluctant to change this accordingly at this time as category pages are a little more tedious to move compared to regular pages. This is because you would have to retag every page that was linked with the original name of the category. This isn't done automatically unfortunately, so please forgive it. TTwTT The following examples are the categories for Chiyu's character page, her product page, and Natsuki Karin's page.


6. Gallery, Demo/Song, and album pages. I'm going to just talk about these in one spot because it shouldn't be too long. For Gallery pages, we've removed the "Sub:" part of the page. SynthV wiki had very different implementations back then and it's no longer a necessity. As for songs and albums, we've ultimately removed them. There used to be song pages here, but with the addition of Synthesizer V-Lyrics wiki, we decided to let them handle the pages, though the previous admins wanted to host demo songs only, which uses the "Sub:" naming format for all-in-one implementation.
After Koharu Rikka though, we removed these as well. Rikka ended up having FOURTEEN demo songs, much more than what the R1s, Saki, and the Kotonohas had (1-6 demos). We definitely could not continue the implementation in the way that it was, so instead, all demo songs are linked to SynthV-lyrics wiki. The lyrics wiki also hosts albums. If it's easier to think of it this way, Synth V wiki is more of the character and software info while SV Lyrics is all about what producers put forth.
7. The color schemes (known as "Vcolor") have been entirely overhauled. One of our editors, Mahali syarifuddin, was working on improving the color contrasts for each character. The goal was to have better legibility and accessibility, and each color scheme complies with a specific contrast ratio. While the original color schemes were mostly directly pulled from the character, sometimes they were really hard to read (like Chiyu's, AiKO's, Karin's, and SOLARIA's). The new color schemes might not borrow directly from the designs, but they're close enough to be related. What's more important to us is for our visitors to be able to read the templates with little issues rather than picking directly from the designs for the sake of color scheming accuracy. We thank Mahli for their time in making these adjustments!
As expected for upcoming vocals, please keep in mind that the colors may still be subject to change based on final releases.
8. The front page has met with some renovation. This is mainly the implementation of discord in addition to adding the companies' twitters! Now users can quickly access these companies' news feeds without having to open the application or site itself.
Please keep in mind that we will not be including character twitters as these are usually made to promote the character rather than consistently supply information about development. There may be exceptions if the character is treated as the company's twitter (like Tsuina-chan, who we did not add yet but are in the process of doing so), but for most cases, these will not be included. Those are linked in Character pages instead.
9. For product links, these are found on Product pages and are separated by physical, digital, and lite copies. We are currently modifying them to include collapsible sections, but only if there's a lot of them (possibly a max of 5 links per section). This is also now formatted so the link lists is labeled as the site, followed by parenthesis containing the voice type if the character has both Standard and AI.
These will also be listed on the infobox of character pages for Upcoming vocals only due to the all-in-one situation. Crowdfund pages are also included only if they're current/ongoing. Once it's ended, it's removed and hosted on the bottom of the page only or listed as a reference/linked in the history.
10. Reputation templates have been restored to the original look, which was based on Vocaloid wiki. The template itself also has instructional guidelines on what to write for each section. Please keep in mind that it's a mixture of objective, but mainly subjective observations. Observations from the companies are also greatly valued as synthesizers don't always receive comments from the company perspective.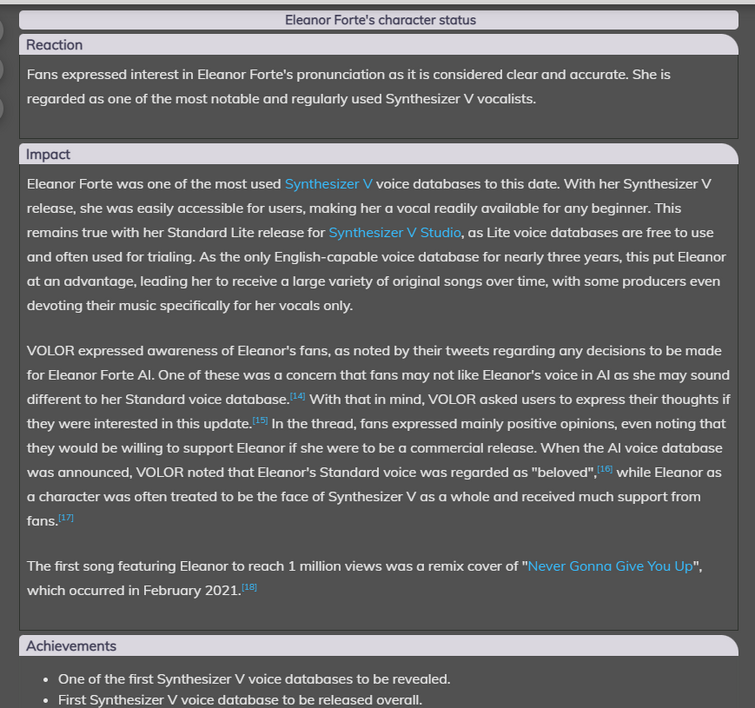 11. The Product Information templates have also been restored to derive from Vocaloid Wiki, but has some twists. I would have to link to one of my tweets as it has four examples of the change here.
We've added a "Pitch Group" parameter as these are offered within databases. Sometimes, this is all we get instead of a tempo and a range,
We've added "System Requirements" to this template. On Vocaloid wiki, these were its own header in the development history area.
We've added the "License Agreements" as this was something that the former template had and we wanted to keep it. This is also helpful for characters with vastly different or stricter clauses. These are agreements that are usually listed online for public. We're unsure if this is something we can compile on a separate document for those who don't have a publicly available clause.

The samples are official samples from the Dreamtonics website and any others that a company have implement onto their websites.
12. Lastly, we have some new admins. We haven't really had a formal announcement, but please do welcome Manaboy223 and SilSinn9801 as SV Wiki's latest admins. TerranMarine036 and Xuuism also joined as the Discord's moderators, so a big welcome to them as well!
We hope that you approve of these decisions and find it easier to navigate. Feel free to provide any feedback and concerns, be it here or on the discord! Any more major changes, we'll try to make a habit of announcing it here too!
Thanks for reading!