ANRI, also known as Airi Lin, is an English vocal developed and distributed by AUDIOLOGIE Co., Ltd., and released as an AI voice database for Synthesizer V Studio in December 2021.
Her voice provider is the CV kurapichu.
Concept
[
]
ANRI is described to be a kind person with a warm and dynamic personality. Once she sets a goal, she becomes very determined. She loves bubble tea, strawberry mille-feuille, and her pet guinea pig, Chachamaru (茶茶丸; Chácháwán).[1] According to her official biography, she joined AO in 2021 and made her debut with "PROGRAMMED 2 LOVE" (abbreviated to "P2L"). Her hobbies include songwriting, musical production, and spending time with Chachamaru. Her musical influences are Aaliyah and Frank Ocean. She is a Gemini.[2]
Etymology
[
]
The stage name, "Anri" (杏里)[3], is a name of Japanese origin meaning "Apricot Jasmine". In Chinese, her name is rendered as "安里" (Ānlǐ).[4] In an official illustration, her name is rendered in hiragana as "あんリ".[5]
ANRI's real name is "Airi Lin" (铃爱莉; Líng Àilì). Her surname refers to a "small bell" or a "chime". "Ài" (爱) means "love" while "Lì" (莉) means "Jasmine".
Appearance
[
]
Reference sheet
ANRI wears a white puff-sleeved blouse, navy blue pleated skirt, and red bow. On the hem of her skirt is a music staff and notes. Her socks are white, and her shoes are navy blue pumps with large blue bows on the buckle. She wears a seafoam green backpack. A pair of feathery wings protrude from either side of the bag. Her hair is bobbed and a light caramel color. Two strands of it are braided on either side of her head, and pulled back into a ponytail. Her eyes are pale green. In her hand, she holds a golden cat eared microphone. On that wrist, she wears a seafoam green beaded bracelet.
Relations
[
]
Voice Libraries
[
]
Additional Information
[
]
Marketing
[
]
On the day of her reveal, ANRI was given a variety of merchandise. Her limited physical copies came with a bonus of an acrylic stand, metal can badge, a secret acrylic charm, and a rubber strap. There were other acrylic keychains, a keychain standee, a pillow with Chachamaru, a wall scroll, and a poster available on the official store as well.[7]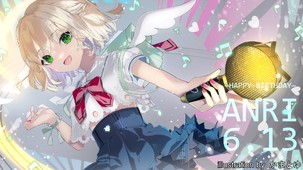 2022 Birthday; illust. Kamatoyu
ANRI was made available on AUDIOLOGIE's website and VOLOR's ANiCUTE store. For ANiCUTE, she was distributed as bundle packs (either paired with the Synthesizer V Studio Pro editor, Eleanor Forte AI, or both) or add-ons to existing Eleanor Forte AI pre-orders.[8] On VOLOR's banners and tweets, ANRI was labelled to be Eleanor's friend, and on one of their store banners, the bundle was called the "Best Friend Bundle Bag", which AUDIOLOGIE also promoted later on Twitter.[6]
In the description of ANRI's crew neck t-shirt page, a free copy of her 3 track EP, "TKO", would be distributed as a digital bonus. "TKO" included remastered 4th generation versions of the following songs and their instrumentals: "PROGRAMMED 2 LOVE", "Feelings", and "UwU (All I Do)".[9]
On June 24, 2022, Dreamtonics Co., Ltd. announced its first creation contest in collaboration with AH-Software Co. Ltd., Animen, AUDIOLOGIE, and Eclipsed Sounds, LLC with three competition areas: originals, covers, and cross-lingual synthesis. Creators were encouraged to submit their work regardless of language restrictions. Prizes included cash distribution from bilibili, digital copies of certain Synthesizer V voice databases, and the physical boxed copy of ANRI, who was also listed as one of the eligible vocals for this contest.[10]
Reputation
[
]
ANRI's character status
Reaction
ANRI received a very strong positive reaction from most Western fans since her debut, even drawing interest from Japanese and Chinese fans. As one of the four upcoming English vocals at the time (which included Eleanor Forte AI,
SOLARIA
, and
Kevin
), ANRI was met with great anticipation. Western fans were excited for more English vocals to choose from after three years of only having one available since
Synthesizer V'
s release in 2018 (that being Eleanor Forte), filling in a demand for more in this language. She was regarded as a welcome addition to the English roster.
Impact
A week before her release, AUDIOLOGIE acknowledged that there was much support for ANRI.
[11]
Achievements
First Synthesizer V character from AUDIOLOGIE.
First English voice database from AUDIOLOGIE.
First Synthesizer V AI voice database from AUDIOLOGIE.
First female voice database from AUDIOLOGIE.
References
[
]
External links
[
]
[

]