This article is still a work in progress
This article is slowly being improved for the benefit of all visitors. Please bear with us while improvements are being made. We apologise for the inconvenience this may cause in the meantime.
(What's Being worked on: Info on the company)

"You can get busy with your dreams, but don't get so busy that you forget them."
Animen (株式会社) also known as Animen Digital Technology Co., Ltd. (愛尼曼數位科技股份有限公司) is an entertainment company based in Taipei City, Taiwan of which AiKO is a mascot of. Animen has been deeply involved in the animation and cultural and creative industry in Taiwan for many years. It has subsidiaries and multiple project companies in China and Japan and is also one of the representative companies that have grown and developed rapidly in the industry in recent years. Their primary focus is the original planning, development and operation of original animation/cultural and creative IP (Intellectual Property).
They are also involved in the publication and distribution of digital and paper books (comics, novels, other graphic content...etc). as well as animation/cultural and creative IP development of peripheral products & digital content development (high-end 2D animation production, mobile game production...etc). They also specialize in channel management: Animation news media, Specialized e-commerce for animation, cultural and creative industries and the operation of animation service applications as well as copyright trade and authorization.
Animen's vision is to bring more energy to the digital creative and animation industry. Animen noted their company originates from creation, as such the main vision of of the company logo uses the concept of a pen and ink bottle, which symbolizes the origin and beginning of all creation that which comes from the brush and ink in peoples hands.
Animen's company name is derived from the English word "anime" while adding an "n" at the end to make the suffix "men", the plural of man of which "anime was born from". Since then, Animen has continued to pursue and build a diverse and professional team, and continue to make progress with firm organizational strength.[1] [2]
History
[
]
Animen was established in March 2011, mainly focusing on the development and promotion of a series of original animation projects and the management of anime-themed portals such as the "Animen Animation Platform". The organization structure of the team consists of: art group, animation group, music group, game development group, news group, marketing planning group, information development group, business public relations group, general management office. Animen's goal is to deepen their roots in the animation and cultural and creative industry, and strive to promote and create the highest quality animation communication environment and services.
The preparations for "Animen" began in October 2010. At the beginning of its establishment, it mainly focused on independent development and promotion of original animation works. In the summer of 2011, the world's first Ziwei Doushu animation original work "Xingyao Academy"(星耀學園) was launched. The series was also selected as one of Taiwan's top ten original animation works by the Information Bureau. The "Creation Exchange Festival", a cross-disciplinary creative exchange activity held in mid-2012, was also well received.[3]
Animen's animation portal "Animen Animation Platform" (Animen愛尼曼動漫平台專屬) opened around the same time and was mainly oriented to serve consumers and creators, and to construct various benign interactive cooperation within the animation industry.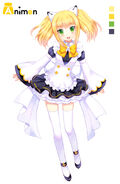 Animen's official mascot AiKO made her first debut in 2012.[4] Since then, she has been used in various promotional events including comics, animations, contests, music, merchandise and other forms of media.[5][6][7][8]
Animen released their first Synthesizer V library for AiKO on December 28, 2018 on their ANiCUTE e-commerce store[9] for digital download as well as a physical DVD version and Synthesizer V bundle on their Taobao.[10][11] She was released under the VOLOR brand and music label alongside other Synthesizer V vocals Eleanor Forte, GENBU and Yamine Renri.[12]
On July 15, 2020 Dreamtonics Co., Ltd. confirmed updates for AiKO and GENBU for Synthesizer V Studio and were released on Animen's ANiCUTE store the same day for international customers.[13][14]
Voice Databases
[
]
Synthesizer V
[
]
Synthesizer V Studio
[
]
Trivia
[
]
Animen chose Chrome Yellow (#FDD000) as their official corporate color. Their hope that such a bright and vibrant color could give Animen a more positive thinking and creative power.
References
[
]
External links
[
]
[

]