Eleanor Forte, also known as ENG-F1, is an English vocal[4] developed by Dreamtonics Co., Ltd. and distributed by VOLOR, and was released in August 2018 for the first Synthesizer V engine. She was one of the very first voice databases to be introduced for Synthesizer V and was released as the first English voice database for public use.[5]
Eleanor updated to Synthesizer V Studio as an AI voice database in December 2021. Her development and distribution had been handled by VOLOR from that point on. A full Standard voice database is expected to release later on. Currently, users can access and use her Standard Lite voice database.
Her voice provider has not been officially revealed, but Eleanor was confirmed to have an American accent.[6]
Concept
[
]
Initially, the voice database was introduced as "ENG-F1". She was not given a character until her rights were purchased by VOLOR, a subdivision of Animen, and was later known as Eleanor Forte. She was designed and illustrated by Sleepy Ho11ow.
Despite being a virtual singer, Eleanor has an interest in antiques. She is described as being honest, endeavoring, and having an unwavering sense of morality.
Etymology
[
]
Her first name, "Eleanor", means "light", and was the name of many royals from the Medieval period. Her last name, "Forte", means "strength", and references the musical dynamic, "f" (forte), which is used to represent a degree of loudness in music.
Her name is rendered in kana as "エレノア・フォルテ"[7] and as "愛蓮娜・芙緹" in Traditional Chinese ("爱莲娜・芙缇" in Simplified Chinese).[8]
Appearance
[
]
The sealing wax and tied ribbon on the design were inspired by hand-written letters. The thread around her pinkie is inspired by the red thread of fate, which indicated that if two people are connected by a red thread, they are destined to meet each other. According to concept artwork from Sleepy Ho11ow, her long white hair is styled into two buns each with a loop drooping underneath with the remaining flowing out from the back, parting from the center outwards. Her dress is inspired by dip pens.
In an interview with VNN (vocaloidnews.net), because Eleanor's voice is more mature despite having a larger head-to-body ratio, Kanru Hua said that he was afraid that her design wouldn't fit her voice. However, he modified the voice to fit the design more in early August and was relieved that, after the modifications, the design and voice matched.[9]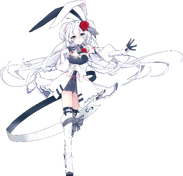 2020 Visual
In August 2020, to commemorate her 2nd anniversary, Eleanor Forte was given a new illustration for her main visual in a tweet from VOLOR.[10]
In August 2021, Sleepy Ho11ow received permission to publish Eleanor's initial concept art.[11] It was revealed that in the beginning, Eleanor's design resembled more of a post carrier, but was changed to have a much tighter concept in combination with old-fashioned letters instead. The signature wax seal was present in the older concepts and remained in her final art.[12]
Relations
[
]
Voice Libraries
[
]
Additional Information
[
]
Marketing
[
]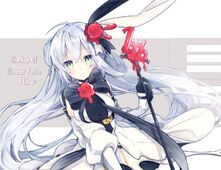 1st Anniversary; illust. Sleepy Ho11ow
As one of the first voice databases to be shown in tech demos for the Synthesizer V engine itself, ENG-F1 had no visual appearance or representation. It was not until VOLOR purchased her rights that ENG-F1 was given a design and concept, that being Eleanor Forte. Since then, Eleanor received key art, along with promotional art for holidays and her anniversaries.
Eleanor received an official charm that was purchasable through Beijing Photek S&T Development Co., Ltd.'s Taobao shop for a time. This is no longer being sold.
On August 19, 2021, a survey was launched regarding physical copies of Eleanor Forte AI's voice database as well as merchandise. The merchandise listed in the survey included acrylic keychains, acrylic standees, pin badges, rubber straps, stickers, wall scrolls, and washi tape. An open-ended question was also included allowing for any other merchandise ideas.[14]
When AUDIOLOGIE Co., Ltd.'s ANRI made her debut on October 16, 2021, the new company partnered with VOLOR to distribute ANRI as bundle packs (either paired with the Synthesizer V Studio Pro editor, Eleanor Forte AI, or both) or add-ons to existing Eleanor Forte AI pre-orders.[15] On VOLOR's banners and tweets, ANRI was labeled to be Eleanor's friend, and on one of their store banners, the bundle was called the "Best Friend Bundle Bag", which AUDIOLOGIE also promoted later on Twitter.[13]
As of December 6, works featuring Eleanor, GENBU, and AiKO were accepted on Piapro, a well-known Japanese center of the VOCALOID, and extensively, voice synthesizer community.[16]
In January 2022, an original song contest for Eleanor was launched and hosted by VOCASYNTH, sponsored in part by VOLOR, Vlad Kolosov, and Nikita Privalov. Using her Standard or AI Lite voice databases, participants were able to write originals in Japanese, Korean, Chinese, English, Spanish, Russian, or Ukrainian, with a minimum song length of 3 minutes. Prizes included Synthesizer V Studio Pro Editor and Eleanor Forte AI for first place, a choice of Eleanor Forte AI, GENBU, or AiKO for second place, and a choice of GENBU or AiKO for third place. At the end of the competition, a full album would be created featuring all of the submissions.[17][18] On February 23, the five winners were announced to be RYOMTA, awrengee, sayoun, PP, and rampie.[19]
Reputation
[
]
Eleanor Forte's character status
Reaction
Fans expressed interest in Eleanor Forte's pronunciation as it is considered clear and accurate. She is regarded as one of the most notable and regularly used Synthesizer V vocalists. She received much support from fans during her early beginnings as ENG-F1, and throughout her time as a free release for Synthesizer V and a commercial release for Synthesizer V Studio.
Impact
Eleanor Forte was one of the most used Synthesizer V voice databases to this date. With her Synthesizer V release, she was easily accessible for users, making her a vocal readily available for any beginner. This remained true with her Standard Lite release for Synthesizer V Studio, as Lite voice databases were free to use and often used for trialing. As the only English-capable voice database for nearly three years, this put Eleanor at an advantage, leading her to receive a large variety of original songs over time, with some producers even devoting their music specifically for her vocals only.
VOLOR expressed awareness of Eleanor's fans, as noted by their tweets regarding any decisions to be made for Eleanor Forte AI. One of these was a concern that fans may not like Eleanor's voice in AI as she may sound different from her Standard voice database.[20] With that in mind, VOLOR asked users to express their thoughts if they were interested in this update.[21] In the thread, fans expressed mainly positive opinions, even noting that they would be willing to support Eleanor if she were to be a commercial release. When the AI voice database was announced, VOLOR noted that Eleanor's Standard voice was regarded as "beloved",[22] while Eleanor as a character was often treated to be the face of Synthesizer V as a whole and received much support from fans, especially during her beginnings when she was "nearly stuck at the starting point".[23]
The first song featuring Eleanor to reach 1 million views was a remix cover of "
Never Gonna Give You Up
" created by
GrogTony
, which occurred on February 21, 2021.
[24]
Achievements
One of the first Synthesizer V voice databases to be revealed.
First Synthesizer V voice database to be released overall.
First English voice database to be released.
First native English voice database to be released.
First female voice database to be released.
First English female voice database to be released.
First Dreamtonics and VOLOR voice database to be released.
First English Dreamtonics and VOLOR voice database to be released.
First female Dreamtonics and VOLOR and voice database to be released.
First Synthesizer V voice database to get an avatar.
First Synthesizer V voice database to get a name, other than her codename.
One of the first Standard Lite voice databases released for Synthesizer V Studio.
First Synthesizer V Lite voice database released prior to Pro equivalent.
First Standard Lite English voice database to be released for Synthesizer V Studio.
First Synthesizer V AI voice database from VOLOR.
References
[
]
[

]