"In the tranquil of the night, the ocean gleams under the star.
Treading the rippling waves, please take me beyond and afar.
"
—Back of Haiyi's box, taken from her demo "Shoal"
Haiyi (海伊) is a Mandarin Chinese vocal developed and distributed by Beijing Photek S&T Development Co., Ltd., and was released in September 2019 for the first Synthesizer V engine. She is part of the MEDIUM⁵ cast.
Haiyi later updated to Synthesizer V Studio as a Standard voice database in July 2020, and is currently expecting a Standard-trained AI voice database known as "Haiyi Synthesizer V Plus".[3]
Her voice provider is Huazheng Anly, a Chinese singer.
Concept
[
]
Quadimension distributed a postcard featuring Haiyi with a description written by ATDan on the back. According to ATDan, "Haiyi was born by the sea. The waves and marine animals tell the story of the girl who was born of the sea. The Metatron's Cube symbolizes the relationship between Haiyi and water, the gem on her necklace is of the same space.
This girl doesn't just look like the sea, her voice is like the water too: gentle and elegant. A sound like water, an appearance like the sea".[1]
For Haiyi's logo, a shape known as the icosahedron is present next to her name and is part of the last three strokes in the "海" character. In the spiritual meaning of Metatron's Cube, the icosahedron represents water, which influenced her design, name, and concept.[4]
In March 2019, Haiyi was revealed to be part of the MEDIUM⁵ cast and was one of the girls who derived from a single being known as ZERO who possessed Metatron's Cube.[5] She was listed as a Cancer sign.[6]
According to the Dreamtonics website, Haiyi is described as chatty and mischievous.[7]
Etymology
[
]
Hǎi (海) means "ocean" or "sea". Yī (伊) may translate to "she" or "her".[8] The name was created by Ddickky and derives from the concept of Haiyi being born from the sea, sharing its appearance and having a serine and gentle voice like the water.
Her name is rendered in Kana as "ハイー".[7]
Appearance
[
]
Haiyi's design follows an ocean theme. Her color scheme consists of light and dark blues, whites, and pinks. She wears a jellyfish on the left side of her head.
ATDan explained that because Haiyi was born by the sea, he designed her with clear blue hair and eyes (mentioning that the sea gave them to her). Her clothing was based on the outfits worn by ice skaters and her shoes signified waves moving around. The jellyfish and the symmetrical tailfin gave an impression of a sea god in ancient times.[1]
Relationships
[
]
Cangqiong - Older Sister. When initially introduced, Haiyi noted that she thought that Cangqiong was not as strong as her.[9]
Chiyu - Older Sister. When initially introduced, Haiyi noted that they did not get along well due to their elements being the opposite (fire vs. water).[9]
Xingchen - Older sister.
Shian - Younger Sister.
ZERO - Originator.
Voice Libraries
[
]
Additional Information
[
]
Marketing
[
]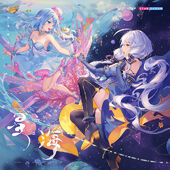 "Star Ocean" album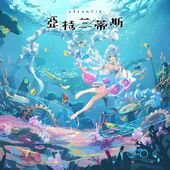 "Atlantis" album
Haiyi was initially introduced as Xingchen's younger sister and her UTAU voicebank was showcased in February 2018. Throughout her time as an UTAU, Haiyi received various merchandise. This included key-chains, phone straps, omamori, dakimakura, and three original albums: "Star Ocean", "Atlantis", and "Fairyland".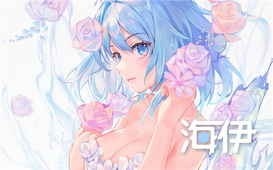 2020 birthday by ATDan
Haiyi was later introduced as one of the members of MEDIUM⁵ and her Synthesizer V voice database released in September 2019. Since then, her UTAU vocal was no longer used, though it was possible that PVs using this vocal could appear later on. However, it was also likely that the UTAU vocal may be replaced with or a succeeding version may be created using the Synthesizer V versions. Additional official merchandise, such as figures and albums featuring her Synthesizer V voice databases, continued to surface. Haiyi also had her own official Weibo account, her official bilibili account, and an official bilibili playlist.
On occasion, Beijing Photek would host tuning competitions[10] and paid music production courses for users to participate and attend. These would feature all of Beijing Photek's vocalists, including Haiyi.[11]
MEDIUM⁵ 2050
[
]
Medium 2050 Game Visual
Haiyi will be a featured character in the upcoming MEDIUM⁵ 2050 game. According to the story of the game, Haiyi hails from the land of Poseidonia (波塞多尼亚), also known as the "Sea Country" (海之国度), with her sister Haili (海莉), and was born from an "unusual" family. Haiyi and Haili are from a lineage of heroes with a legacy that thrived over generations. Haili was viewed as a child prodigy in contrast to her sister Haiyi who is regarded as the "useless child" to those around her and to even her parents. Haili loved her sister and saw Haiyi's potential and under Haili's guidance, Haiyi found a way to control her unique powers and become Poseidonia's new hero.[12][13] It was noted that she has an affiliation with the character STHENO and a song from the Quadimension X-1 album would be written describing the past in their hometown. The relationship between the two would be presented in the game.[14]
Reputation
[
]
Haiyi's character status
Reaction
Haiyi was well-received within the Chinese fan-base, even when she debuted in early 2018 (which the voicebank was later confirmed to be using
UTAU
). Haiyi was the first of
VOCALOID
Xingchen
's sisters to make her debut, making her a highly anticipated vocal for nearly two years.
Impact
As the first sister related to Xingchen to be revealed, Haiyi quickly received attention from existing Quadimension fans. Since her voicebank debut, many fans wondered if she was going to be a VOCALOID like her older sister, but were also curious as she didn't sound like one in the demo. Based on the demo, people found her voice to be unique, especially among commercially-released female Chinese voicebanks at the time. Her relations to Xingchen also helped with her popularity as they were marketed together in merchandise and albums.
As a Synthesizer V vocal, Haiyi's voice is regarded as sharp-toned in her higher notes and breathy in her lower and middle notes, retaining a unique sound. Her voice database was used in a variety of genres, especially pop and rock ballads.
Haiyi's Synthesizer V bank was released on Beijing Photek's Taobao page, making it difficult for overseas users to purchase her if they did not know how to navigate and use the site. For her Synthesizer V Studio voice database, she was made available on Animen's ANiCUTE shop, which was friendlier to use for overseas fans.
The first original song to reach 1 million views featuring Haiyi's voice was "
Qīngniǎo Xián Fēng
" by
PoKeR
and Mu Qingming, which occurred on November 18, 2020. However, the first song to achieve this overall was a cover and parody of "
Qióng Kāixīn
"
[15]
by
Nanboku zu-Eternal
and
Sheng Guang kirlia
on October 14, 2020, which spawned multiple popular parodies of the same song with her voice but in different situations, usually revolving around
Gacha games
, like
Genshin Impact
and
Arknights
.
Achievements
Last Synthesizer V voice database to release.
One of the first Synthesizer V Studio voice databases to release.
One of the first Synthesizer V vocals to be updated to Synthesizer V Studio.
One of the first Synthesizer V Studio female voice databases to release.
One of the first Beijing Photek Synthesizer V vocals to be updated.
One of the first Beijing Phokek Synthesizer V Studio vocals to be released.
One of the first Mandarin Chinese voice databases for Synthesizer V Studio.
References
[
]
External links
[
]
[

]